LIONS BEFRIENDERS UNLONELY MOVEMENT
The launch of UNLONELY movement aims to encourage social connectedness amongst all age groups, whether through physical visits, sharing of meals, phone calls, gifts or more. Actions like this help to push aside feelings of loneliness and allow people around us, including our friends, colleagues and even neighbours, feel valued and seen.
UNLONELY movement recognises the detrimental effects of loneliness on a person's mental health. Loneliness is often the trigger for other issues such as depression, anxiety, low self-esteem, sleep issues, stress, and could ultimately lead to a shortened lifespan. By emphasizing the importance of mental health, we hope to encourage people to look out for the well-being of others and normalize topics surrounding mental wellness. These efforts will help build an inclusive and supportive community in Singapore, where people will not feel alone but uplifted by those around them.
The hand sign signifies the action of two people coming together to connect. It serves to remind all people to call up a loved one and connect with them. To date, we have about 500 LB staff, seniors, volunteers, partners, and members of the public who have done the hand sign with us. Help us be an advocate and spread the word by doing the hand sign and posting it on your social media platforms!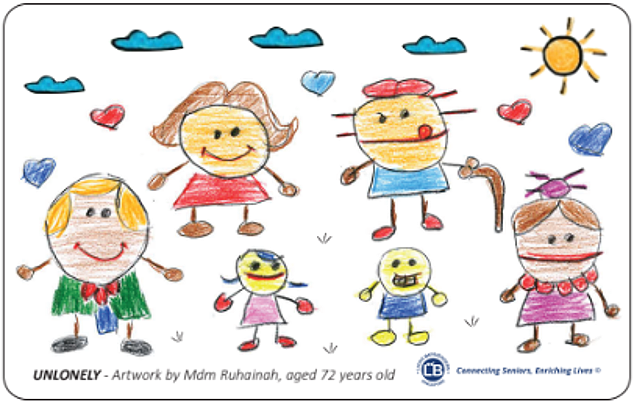 Limited edition UNLONELY Movement EZ-Link card