SENIOR, VOLUNTEER, CAREGIVER: SPREADING PURPOSE ALL AROUND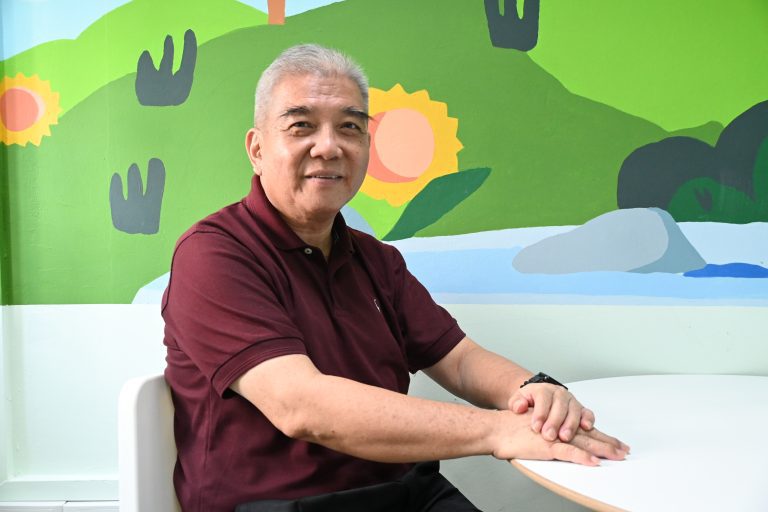 Justin Foo, 66, is an active senior volunteer at LB AAC @ Clementi 344.
In a society filled with bustling lives and ever-evolving priorities, it is rare to encounter individuals who selflessly pour out their time, energy and love to others. However, at an age where many opt for a more relaxed pace of life, 66-year-old Mr Justin Foo is a senior from LB AAC @ Clementi 344 who has instead taken on the roles of an active volunteer serving fellow LB seniors, as well as a full-time caregiver to his 94-year-old mother.
Justin's dedication towards seniors goes all the way back to his tertiary schooling days, when he and his friends would often visit the elderly to engage them in conversation, something that he enjoyed a lot as he always found that they had much to share. In 1997, Justin became more involved with seniors in his community when he was invited to volunteer at the Civil Defence Executive Committee (CDEC), a grassroots organisation that helped to educate the ground about preparedness to overcome emergencies.
Around that time, an incident left a deep impression on him. Then running his own servicing and repair business, he would come across a group of seniors sitting at a void deck near his apartment block every night when he returned from work. One evening, when he saw them and smiled at them as usual, they smiled back and remarked to him, "Mister, things are good for you; you are still working, not like us, just sitting here waiting to die!"
This statement from the seniors struck Justin. "How can?" he said to himself. "Though they are retired, they shouldn't be just waiting to die." Determined to do something about the situation, he decided to volunteer at the Residents' Committee (RC) in his Clementi estate, and work with the RC members to help organise various meaningful events for the seniors, such as day tours and singing activities. In 2000, Justin became the chairman of the RC, and later that year, he was appointed as the vice-chairman of the Citizens' Consultative Committee (CCC).
Fast forward to 2018, Justin, who had then been working for the past 10 years as a regional IT manager in a multinational corporation, retired from his full-time job. His mother had been diagnosed with dementia, and he needed to join his wife in looking after her. Despite this, his fervour for volunteering never wavered, splitting his time between being a caregiver to his frail mother and engaging seniors through grassroots activities. He also observed a growing number of wheelchair-bound seniors sitting aimlessly around the estate he had been living in for nearly five decades, and wanted to help them spend their time more purposefully.
About two years ago, Justin, together with his wife and mother, signed up as members of LB AAC @ Clementi 344, which under the new Active Ageing Centre model had opened its doors to all seniors aged 60 and above, regardless of socio-economic status or dwelling types. When he noticed how his mother was looking forward to the activities at the centre, Justin also wanted to bring other seniors in to have social bonding and do things that interested them. His unique understanding of the ground and existing connection with many seniors in the estate meant that he was able to reach out to them and invite them for different programmes at the AAC.
Justin (left) strikes up a conversation with fellow LB seniors at LB AAC @ Clementi 344.
Justin recognised the challenges that the AAC faced. "The seniors come in with their own experience, having their own thinking, knowledge and background. It is not easy to simply mix them around," he said. "Some may choose exercise, some prefer outings, and some enjoy board games, so they have to be organised accordingly. To run all these, the AAC must have sufficient manpower."
So when LB AAC @ Clementi 344 started recruiting active seniors to serve as volunteers, Justin stepped up to contribute, leading some of the programmes at the centre. "Some things can be done by us (senior volunteers), such as marking of attendance and bringing the seniors out (for walks), while the staff can concentrate more on programme planning," he explained.
As Singapore's ageing population continues to grow rapidly, Justin sees a potential for greater coordination among various volunteer groups from organisations or schools to ensure that limited resources are well utilised in helping seniors. For example, he said, if the groups can work with the AAC to plan on spreading out food ration distribution to seniors across the whole year instead of concentrating on festive periods, this would prevent overlaps and food wastage.

Justin's wealth of experience garnered from his 25 years of grassroots involvement is certainly invaluable to LB AAC @ Clementi 344's work in getting more seniors out of social isolation and effectively running more programmes that would bring greater fulfilment and purpose to their lives. Finally, when asked if he had any words of advice for fellow seniors to step out from their homes to join in the AAC's activities, Justin quipped in Chinese, "活动活动,活着就要动!" Which, when translated, literally means, "Be active, you must stay active as long as you're alive!"
Watch Justin, his wife Mdm Tan Joo Geo and his mother Mdm Lim in an episode of Mandarin current affairs show 《晨光第一线》Morning Express  on Mediacorp Channel 8, which delves into the topic of seniors being caregivers:
In September 2023, Justin penned a heartfelt letter in Chinese to his ailing mother, expressing his love and respect for her. Read his letter here: A Letter to My Mother
We hope that these stories would inspire you to reach out and touch the lives of others.
If you would like to share your thoughts on these stories, please feel free to email us at 
cp@lb.org.sg
If you know of seniors who could use our services, you can help by referring them to us. 

Click here to find out more.