Our Befriending Service reaches out to seniors who are at risk of social isolation. Through weekly home visits, trained befrienders (volunteers) provide social and psycho-emotional support to befriendees (seniors) whilst monitoring their welfare and living environment. The aim is to help seniors age in place within the community, relieve loneliness and improve their well-being.
We also provide community contact for our seniors by coordinating social and recreational activities sponsored by Lions Clubs and various community partners, corporations and individuals. Through working with other eldercare social service agencies and service providers to facilitate better co-ordination in the provision of community-based care and support services, we are committed to enhance our seniors' quality of life.
Since our inception in 1995, we have served more than 86,000 seniors and trained more than 3,000 befrienders.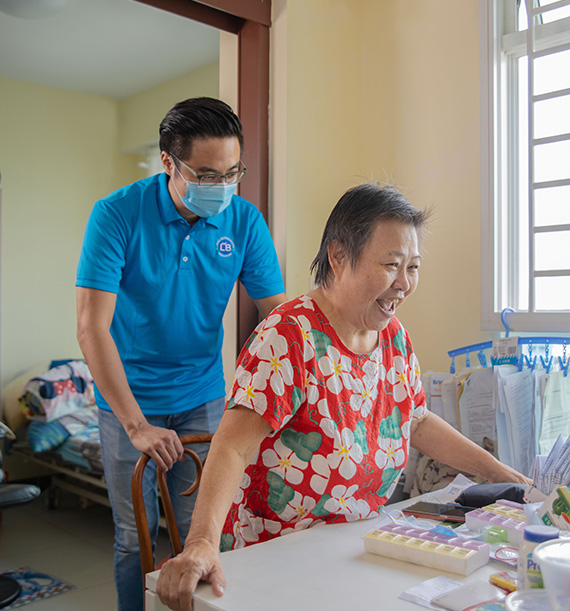 Why the Need for this Programme
Befriending Services is similar to a "good neighbour programme" where a senior is visited by befrienders (volunteers) in their homes. This seemingly small act cannot be understated. As the ageing population continues to grow exponentially, there is an increasing number of seniors living alone. A decline in neighbourliness over the years put seniors at risk of loneliness and social isolation.
Reduce the isolation of lonely seniors and improve their well-being
Enable lonely seniors to age-in-place with community support
Provide seniors with access to contacts and sources of help
Profile & eligibility criteria
60 years & above
Limited or no family support
Singapore citizens/permanent residents
Currently, more than 80% of the seniors under our care reside in one or two-room HDB rental flats and over 40% are under the Government's Public Assistance scheme.
The Befriending Services is funded by the Ministry of Health.
Refer a Senior
Since the new Eldercare model (EC) was implemented by MOH on 3 May 2021, all new Befriending referrals henceforth will need to be centrally submitted through Agency for Integrated Care's (AIC) Integrated Referral Management System (IRMS). Click here to submit a referral.
All befriending referrals will be allocated according to the respective Active Ageing Centre's service boundaries, or Interim Befriending Panel (IBP) like Lions Befrienders, upon your submission via the IRMS system. Your referral will be processed, assessed and its status will be updated by the assigned service provider in the same system as well.
For assistance, please email befriending@lb.org.sg.