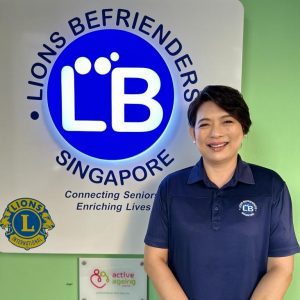 Ms Karen Wee, Executive Director
Appointed on 1 October 2021
Karen serves as the Executive Director at Lions Befrienders Service Association. She has led Lions Befrienders to be leader in preventive eldercare especially in areas of digitalisation and fast turnaround of innovative programmes. Karen Wee is a strategist, innovator and implementor with 33 years of volunteering experience and 13 years of professional experience in non-profit sector.
With experience in full spectrum of non-profit sector in APAC, working at government (NCSS), civil organisation (NVPC), international NPO (YMCA) and local NPO (Children Cancer Foundation) and volunteering experience both locally and USA, she is often entrusted to develop new departments, innovative programmes and revamp declining or mature areas.
Over the years, she continued to execute strategies, revamped operations and strengthen partnerships with public, private and people. With an intentionally extensive and intensive career in the following areas, she has successes and deep strategic and operational experience in almost the full works of NPO.
Qualifications:
– Chartered Marketer (in pursuant) & Fellow of Chartered Institute of Marketing (CMktr, FCIM)
– Chartered Accountant & Member, Institute of Singapore Chartered Accountants
– Certified Internal Auditor, Institute of Certified Internal Auditors, USA
– Bachelor of Accountancy (Hons), NTU
Ms Emily Ong, Director, HOD of Eldercare (Active Ageing Centre)
Appointed on 1 July 2022
Emily is currently holding the position of Assistant Director and Head of Department for the Eldercare Centres where she oversees the Senior Activity Centres and Active Ageing Centres.
She made a mid-career switch to social service from the corporate sector and joined Lions Befrienders 12 years ago as a Volunteer Executive, managing and training volunteers who conducted home visits. In her capacity as Volunteer manager, she oversaw all volunteer management and training efforts, reviewed and implemented policies to enhance volunteering experiences.
In her current role, Emily is responsible for the strategic development of all Eldercare Centres to drive and lead initiatives while ensuring operational efficiency.
Qualifications:
– Degree in Electrical and Electronic Engineering, NTU
– Master's Degree in Gerontology, SUSS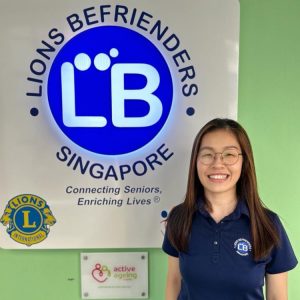 Ms Justina Teo, Director, Special Projects & Development | Befriending Services
Appointed on 1 July 2020
Justina is currently holding the position of Director and is the Head of Department for the Befriending department. She also manages the portfolio of Special Projects and Development which includes Research collaborations with various universities and hospitals.
She started work at Lions Befrienders as a fresh graduate 12 years ago as the Corporate Communications Executive. Later on, she moved onto the field to do direct work with our elderly clients. She currently leads a team of 23 staff in the Befriending Department, providing befriending services to 4,000 seniors island-wide.
Passionate about Befriending, she recently completed a book titled "Befriending Conversations" where LB conducted interviews with 20 elderly on their old occupations. She is also currently overseeing the physical set-up of a Befriending Training Centre in where she hopes will be a place where LB can share and proliferate good befriending practices in anyone and everyone who is keen to engage the Elderly more effectively.
Qualifications:
– Degree in Arts (Communications & New Media), NUS
– Postgraduate Diploma in Social Work, NUS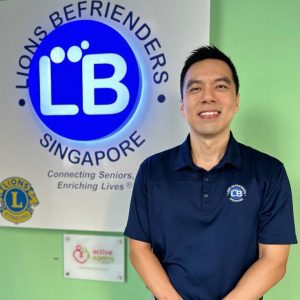 Mr Benjamin Yeo, Assistant Director, HOD of Clinical Services
Appointed on 1 Jan 2023
Benjamin joined Lions Befrienders in Mar 2022 and is currently holding the position of Assistant Director and is the Head of Department of Clinical Services. He oversees the Community Case Management Services department, the Home Personal Care Team and the Counselling team.
Prior to joining Lions Befrienders, Benjamin has been a social service professional with 18 years of experience in the healthcare, social work and education sector. A social worker and educator by training, he is passionate about eldercare issues and community mental health, and the upskilling of professionals providing eldercare services.
In his current role, Benjamin is looking at the synergy of different services to provide holistic care for seniors, and also oversees the intersection of projects that improve the lives of seniors in the community. He is a registered social worker and clinical supervisor with the Singapore Association of Social Workers (SASW) since 2013.
Qualifications:
– Bachelors in Arts (Education), NTU
– Post Grad Diploma (Social Work), NUS
– Master of Social Sciences (Counselling), Swinburne University
– Post Graduate Certificate in Clinical and Casework Supervision, Counselling Care Centre
– Certified Substance Addiction and Gambling Addiction Counsellor, Association of Professionals Specializing in Addiction Counselling