LB Tech Care is dedicated to leveraging on technology to create a comprehensive and personalized care ecosystem – the I-OK Ecosystem – that promotes independence, safety and social connectivity for seniors. 
Catch LB Tech Care feature interview on Silver Carnival 银色嘉年华 at CH 8 (Segment 1), aired on 31 Aug 2023:
https://www.mewatch.sg/watch/Silver-Carnival-2023-E22-401035 
I-Relate
I-Relate helps LB volunteers better empathise with seniors via a GERonTologic (GERT) age-simulation suit, which mimics the common impairments in sight, sound, touch and movement that seniors experience. LB is the first social service agency in Singapore to offer this experiential course for volunteers.
Click here to learn more.
I Say No To Scam
Through a user-friendly web application that comprises a collection of educational videos and engaging quizzes, I Say No To Scam empowers seniors with the knowledge and skills necessary to recognise and combat various types of scams. 
Detection/ Early Intervention
IM-Alert
IM-Alert uses an A.I.-based application called CognICA to detect mild cognitive disorder (MCI) and dementia in seniors, providing comprehensive test results to understand seniors' cognitive function and thus enabling prompt intervention to mitigate potential deterioration or health complications.
Active Ageing Centre Based
IM-Healthy 
IM-Healthy is developed by LB as a one-stop, self-service vital health measurement station. Located at all 10 LB Active Ageing Centres (AACs), the station easily records seniors' health components such as blood pressure, heart rate, muscle mass, body fat and more. This information can be shared with the seniors' family members and healthcare professionals to track changes in health status or quickly detect potential health issues.
More about IM-Healthy in the news:
Lions Befrienders closes the digital gap with the use of technology into daily activities (Segment 1)
(CH8, Silver Carnival 银色嘉年华, 31 August 2023)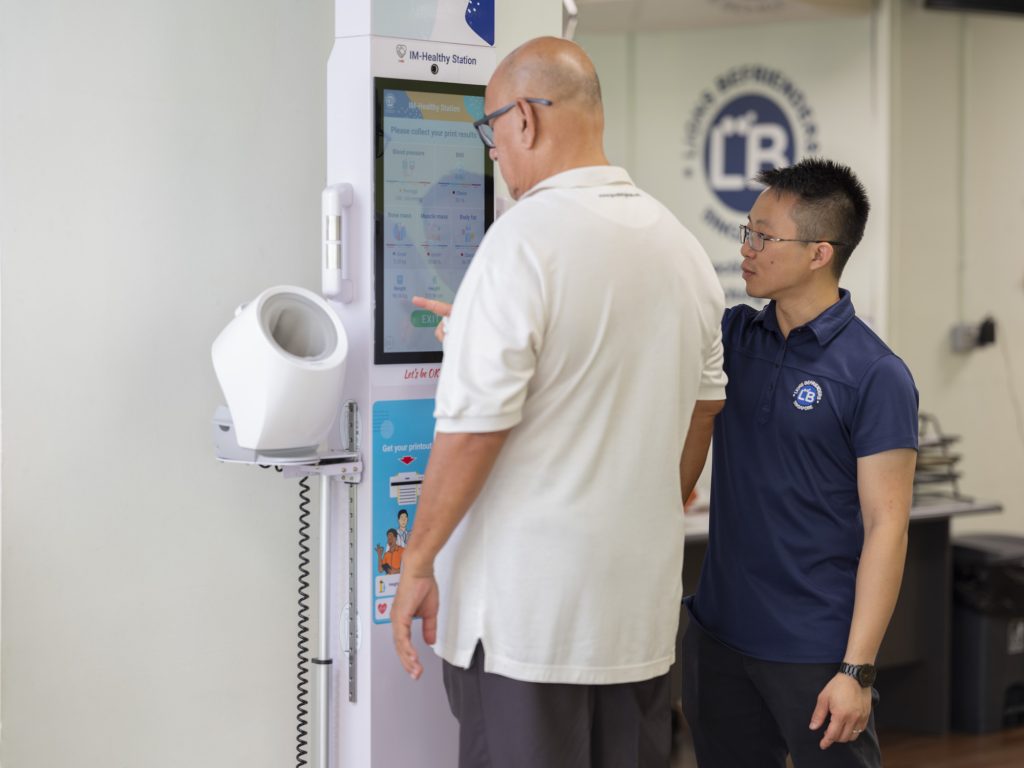 IM-AIDEN 
AIDEN is an Autonomous Mobile Robot (AMR) that can deliver items such as meals, groceries, medication and laundry to the doorsteps of frail or homebound seniors living in HDB flats, and even conduct check-ins on their well-being. Borne out of a joint collaboration between LB and Delta Electronics, the pilot trial for AIDEN was launched on 13 October 2023, serving daily meals to LB seniors at Blk 151 Mei Ling Street. AIDEN boasts the unique capability to move vertically within a building by taking lifts without requiring any expensive overhaul to existing lift infrastructure. These cost savings will allow AIDEN to be swiftly and efficiently deployed in various settings and applications, pending its successful trial.
More about IM-AIDEN in the news:
Lions Befrienders Launch AIDEN, A Robot That Delivers Food To The Elderly
(SilverStreak, 23 October 2023)
Robot 'butler' trial launched at HDB rental block to deliver meals to seniors 
(Straits Times, 22 October 2023)
Robot delivers essentials to seniors in HDB block in Queenstown 
(CNA, 14 October 2023)
会自行搭电梯 机器人为体弱年长者派送物品 
(8视界 8world News, 13 October 2023)
机器人能自行搭电梯 在组屋区试行为年长者送餐送药 
(联合早报 Lianhe Zaobao, 13 October 2023)
狮子乐龄之友协会和台公司试行: 机器人为长者派送物品 
(新明日报 Shin Min Daily News, 13 October 2023)